Weekly Shonen Jump has released an in-depth synopsis for the 100th episode of Dragon Ball Super. Todd Blankenship was quick to translate it for English-speaking fans, so you can read the synopsis of "Rampage! The Berserker Awakens!!" below:
"Kale awakens?! The Tournament of Power gets thrown into chaos!! With Kuririn disqualified, Goku and the gang are now down to only nine people! Meanwhile something strange is happening to the body of Caulifla's protégée, the Universe 6 warrior Kale?!
Caulifla This Week: learning the method for transforming into Super Saiyan Blue?! The Super Saiyan Caulifla witnesses firsthand the power of Blue! Moved by its strength, she asks her enemy Goku to teach her how to transform into it, but…?!"
Looking at the synopsis, fans should immediately key into its latter-half. The description hones in on Caulifla as the hot-headed Saiyans approaches Goku to learn how to go SSB. Given her love of power, Caulifla wants to find a way to undergo such a power-up on her own, but fans will likely riot if she learns a shortcut to the form.
Caulifla may have learned how to go Super Saiyan without difficulty thanks to Cabba, but SSB is another ballgame entirely. Goku was only able to achieve the form after gaining the ability to go Super Saiyan God which first required he undergo a ritual with six Saiyans. The energy it takes to sustain the SSB form is also immense as it takes a much larger toil than just SSJ. The fabled transformation is the most powerful one Goku has in his arsenal right now, so it's easy to see why fans aren't ready for Caulifla to take on the form. The entire ordeal would be a big slap in the face to the Dragon Ball hero.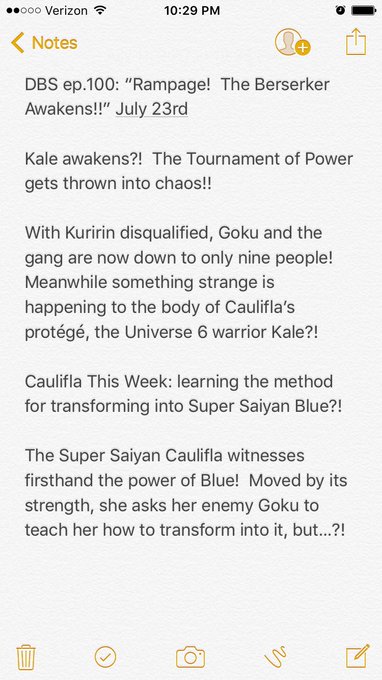 The synopsis doesn't negate the idea of the female Saiyan going SSB, but it certainly does not confirm it either. There is a good chance Goku will be unable to help Caulifla thanks to the Tournament of Power's chaotic nature; Zen-Oh's arena is not the best place to teach a lesson, after all. However, even more importantly, Kale doesn't seem keen on Goku giving her friend any kind of special attention. When the girl unleashes her aptly known 'Broly Form' on the hero, Goku will not have the time to give Caulifla one-on-one training. He'll be way too busy dealing with a jealous Saiyan, and Goku knows how that tends to go; Just look at him and Vegeta.
The synopsis of Dragon Ball Super's current saga can be read here: "According to an invitation that Goku gets, Zen-Oh (Omni King) is starting a martial arts tournament between all the universes called "Chikara no Taikai" (Tournament of Power). But it is the beginning of universal destruction. Something awaits the winners and losers of this tournament. What will become of this fierce team battle between each universe's elite warriors?